Photo spheres met Pannellum
Posted on:
Tuesday 26 July 2016
/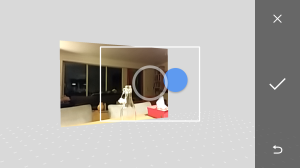 Een paar dagen geleden vond ik op 't web Pannellum ("A Lightweight Panorama Viewer for the Web"), en het leek me leuk om daar eens mee te spelen. Daarom heb ik van LEGO® iets geknutseld om mijn telefoon op mijn foto-statief te bevestigen en ben ik met Google Camera aan de slag gegaan. Deze app maakt het erg eenvoudig om photo spheres (360×180 graden panorama's) te schieten. Het resultaat is een JPEG in de zgn. afstandsgetrouwe cilinderprojectie, oftewel in beter begrijpbaar Engels: de equirectangular projection.
Dit plaatje kan zo met Pannellum worden weergegeven, alleen zijn er limieten op de grootte van de plaatjes, en die zijn per device verschillend. Op mijn PC is dat 4096×2048, en op mijn Android telefoon 2048×1024, voor een volledig 360×180 graden-panorama. Pannellum ondersteunt in een eigen formaat ook multi-resolution panorama's, maar voor het gemak heb ik maar de grootste gemene deler gepakt en dat is 2048×1024.
Zie hieronder het resultaat. Uiteraard zijn de foto's niet perfect; zowel de manier van schieten als de software hebben wat beperkingen, maar ik vind het niet onaardig. Klik op het vierkantje in de viewer voor full-screen weergave.
Ik heb overigens ook een poging gedaan om met een DSLR een serie plaatjes te maken, en deze met Hugin aan elkaar te plakken, maar dat brengt weer nieuwe uitdagingen met zich mee. Ten eerste heb je eigenlijk een panoramic head nodig voor je statief, en 't is een secuur werkje om alles er goed op te krijgen, zeker als je de volledige 180 graden verticale field of view wilt hebben. Wellicht is dit voer voor een latere post.