Garmin Zümo, Google Maps, GPSBabel
Posted on:
Friday 20 January 2012
/
Tonight, I was looking for the best way to create a route in Google Maps and import it on my Garmin Zümo. I have found an easy way, which does not give the best results, and a way that's a little more difficult, but will get you more or less exactly what you want. If you want to do this, you need GPSBabel.
First, you need to understand that a Garmin Zümo, and probably other Garmin devices, have a concept called "route waypoints", which are not waypoints in the regular sense ("favorites" in Zümo-speak), but are the waypoints that a route is made up of.
The objective is, to get a route that is a "real" route in Garmin sense, meaning that it is composed of no more waypoints than necessary, all of which appear on the route as "route waypoints" (orange flags on a Zümo). This is good, because the device will always navigate to the next route waypoint, which is convenient when you have to recalculate the route underway.
The easiest way is to just create your route in Google Maps (you know, draw a line that sticks to roads and drag it around to make it suit your needs until you are done), save it to My Maps and download it as KML. Then you can use GPSBabel to convert it to GPX, which you can copy to the Garmin device:
gpsbabel -w -i kml -o gpx -f route.kml -F route.gpx
By doing this, you have to rely on the feature that allows the Zümo to convert a track into a route. So, if you didn't know: you can import a recorded track from any source into your Zümo, and the Zümo will calculate it into a route. This approach gives you a route that matches exactly what you prepared, but has two major drawbacks:
Tracks are made up of many (possibly thousands) of waypoints. Having the Zümo convert this into a route takes a long time, and there is a big risk that the Zümo will not have enough memory to process the whole track, which leaves you with an incomplete route. Rendering this type of route on the map is also slower, although that may be just my impression.
The resulting route does not have any "route waypoints", as discussed above. It will just have a start and finish. When you drive the route, and underway you have to recalculate the route (roadblocks, detours, you missed an exit, stuff like that), it will then calculate route directly to the finish according to the device's route settings. Any modifications you made by hand in Google are now lost. You can get them back by reloading the route from the menu, but it's up to you to find your way back to it.
There is another way, which does give you a route with route waypoints, it's just a little more work.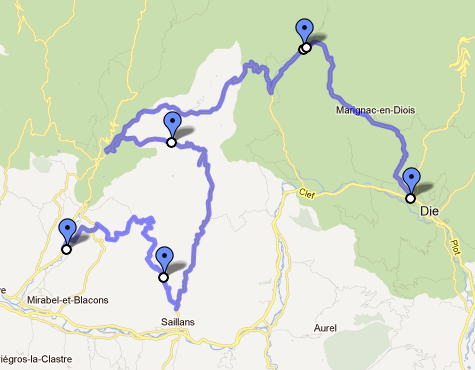 When you drag your route in Google Maps to a diffent road, Google marks that point with a small white dot with a black border. These are our route waypoints. Create as many as you need, but not too many because of the next step.
When your route is finished, create a placemark on every route waypoint that you added. Placemarks are to Google what waypoints (the regular kind) or favorites are to Garmin. If you have a highly customized route, this can be some work. Sorry about that. Make sure that the order in which the placemarks appear in the list on the left hand side of the screen match the order in which they appear in the route. Also make sure that you do not have any placemarks that are not part of your route.
When you are done, download the route as KML. We will now use GPSBabel to construct a route from the placemarks in the KML file.
gpsbabel -i kml -o gpx -f route.kml -x transform,rte=wpt -x nuketypes,waypoints,tracks -F route.gpx
This does a couple of things:
Convert KML into GPX
Using the transform filter, create a route from all waypoints (placemarks)
Discard all waypoints and tracks, using the nuketypes filter
The last step is there to make sure that the Zümo will not try to import all the route waypoints as regular waypoints (so they show up in your Favorites), and we don't need the track either. If you want to keep the track, for example to compare the results, you can leave out the tracks option from the nuketypes filter.
So, an example. First click here to open my example in Google maps. And here's how the final result looks on the Zümo:
Google  thinks this route
is 593 km, the Zümo thinks it's 586 km. That sounds about right, doesn't it?
Just one more thing to keep in mind: Google's routing engine is different from the Zümo's, and your Zümo also takes your settings into account when calculating, like whether to get the quickest or the shortest route, which types of roads to avoid, etc. If you want the result on the Zümo to closely match what you created in Google, make sure you have enough waypoints. The more waypoints you have, the closer they are to each other, and the fewer possible roads there are to get from one waypoint to the next. It's as simple as that 🙂